How Our Junk Removal Service Works
Give us a call or click any "Book Now" button to schedule your convenient junk removal appointment! Call or texting is great also.
We Call When We're On Our Way
We'll arrive on time and give you a heads-up call to let you know when we're on the way! We operate on 2 hour windows of arrival.
Point to what you want removed. Our crew will handle all the lifting and loading.
If You Want It Gone, It's Gone!
No matter where your stuff is located, we'll get it. Our crews aren't afraid to get dirty.
Our crews will make sure they completed your project to standard.
Simply settle up with Cash, Card, Cashapp, Apple Pay, Venmo, or check, and we'll be out in know time.
Save $15! Same and next day appointments available!
FULL SERVICE JUNK REMOVAL
Book junk removal for your home or business, including offices, retail locations, construction sites and more.
Our friendly team is happy to meet all of your junk hauling needs.
At T's Junk Removal We Haul Your Junk So You Don't Have To. We offer top of the line affordable and efficient junk hauling, junk pickup, and trash removal.


We are insured and will secure all permits for your project. We can handle your homes, mobile homes, sheds, garages, carports and interior demolition.


At T's Junk Removal we're excited to now offer Skid-Steer Services. Professionals at moving, digging, filling, and grading of dirt, we are are exactly who you need for your next earth-moving project.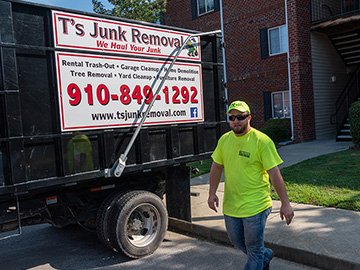 Our team consists of people who care about environment and cleanliness. Every team member showed themselves as responsible and accurate person.
We remove Furniture, Hot Tubs, Sheds, Full Home Trash-Outs, Dumpster Overflows, Tires, Appliances, Trash, Pools, Fencing, Construction Debris, Concrete, Homes, Mobile Homes, Garages, Cardboard, and Interior Demolition Services.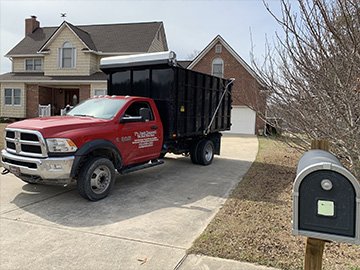 North Carolina: Fayetteville, Fort Bragg, Spring Lake, Raeford, Hope Mills, Cameron, Sanford, Dunn, Eastover, Falcon, Wade, Southern Pines, Aberdeen, Linden, Rockfish, Parkton, Raleigh, Apex and more.Tennesse:Knoxville Tn within 60 mile radius.
T's Junk Removal & Demolition Services
Let's Haul Your Problem Away!
We Haul Your Junk So You Don't Have To
With over 392 + 5 Star reviews, T's Junk Removal is the leading go to Junk Removal and Demolition Company in Fayetteville. We offer top of the line affordable junk hauling, skid steer and demolition services. In addition to being very responsive to our customers, we strive to offer same day services and were insured to handle all our customers' requests for junk pickup, trash removal, junk car hauling, demolition services, skid steer services and many other removal needs.
T'S CAN LIFT, LOAD, AND HAUL AWAY JUST ABOUT ANYTHING.
From a few trash bags to demolishing a full home. We have a variety of removal services. Backyard cleanup to interior demotion. We are the 1st local choice. T's can handle any of your project needs. Nothing is too big or small. WE MEAN IT! Send pictures of your junk removal project to 910-507-2585 and receive a Free quote today. Call to Schedule a Free consultation for your demolition project and receive a fast response.
We will save you time and money when we handle your project. Why DIY when T's can do it?
Serving Fayetteville and all of the surrounding areas within 30-60 miles.
WHAT PEOPLE THINK ABOUT US
Check out our client testimonials

McArthur Landing
14:36 27 Jul 21


Fronte Unito
14:07 10 Jul 21

Nikki Gonzalez
15:59 09 Jul 21

Tristan Steffen
13:59 08 Jul 21

Allison Cox
16:56 06 Jul 21

David "Money" Myers
19:57 01 Jul 21


Trena Daignault (Keller Williams Realty)
17:20 28 Jun 21
Great communication system. Prompt and professional. Highly recommend.

Antonio Day
16:33 28 Jun 21
T's junk removal were timely and very professional.

james classen
17:54 24 Jun 21
Friendly, called and advised they would be a few minutes early, definitely would use again

Yvonne Clark
16:14 24 Jun 21
Have used them before and just recently. Always pleasant and efficient. Clean up after selfs. Will continue to use for services.Highly recommend to anyone needing junk removal!

Alex Bowman
00:11 23 Jun 21
Very quick and efficient. They called me to give the estimate and once I approved it I had a picture of the completed job in about 20 minutes. They accept a variety of payment methods to suit your needs. I would use again but I'm moving out of state.

Lakeisha Marshall
14:48 19 Jun 21

Cindy Nairn
23:00 18 Jun 21
Arrived at 7:00 AM knowing that I had a 6 hour drive ahead of me. Very polite, hardworking and a pleasure to do business with them. It was my third time using them, they are awesome!:)

Bridgette Rind
12:54 17 Jun 21

Chris Lyons
20:42 15 Jun 21
David Howard and team did an excellent job! On time, on point, effective and polite! Will definitely go to Ts with all my removal projects as I have since he started the business.

Margaret Coleman
14:40 15 Jun 21
Service: June 14, 2021. These guys did an excellent job removing old junk in the garage, old furniture in the house. Very professional and hard working. Definitely worth the money if you need to get rid of a lot of junk that has accumulated for years or even decades!

This is the second time I've used T's Junk Removal and both times have been excellent. They are extremely responsive, punctual and fast workers. Highly recommend for anyone who needs a clean out or junk removed.

Michelle Medina
11:42 02 Jun 21
These guys were great! We used them to clean out construction waste on our rental. They were quick, reliable and did the job very well.

Jessica Leavelle
16:53 29 May 21

No problems. Very professional and quite fast. Just what I wished.

Korey White
19:03 26 May 21
They are extremely respectful and responsive. They provide quality service.

Amanda Chase
15:44 24 May 21

Wendy Powell
20:30 18 May 21
They were quick to respond with date for an estimate and for the removal. The price given at the estimate was a little more than I anticipated but I did have alot of junk. The work was well worth the cost. The junk pile area was completely cleaned and it was done quickly. 5 stars 🌟

Scott Deck
15:55 18 May 21
Attempted to get a quote and everything was fine until they couldn't get a skid steer in. Then I heard nothing. I called today and was informed that it was too much work and they couldn't do anything for me


Robin Campbell
17:26 15 May 21
Very professional and fast! Very much appreciated. Would absolutely recommend!

Michelle Anderson
13:14 15 May 21
They were earlier than the job time and they were in and out!

Janecia Freeman
16:19 14 May 21

Dewayne Holley
13:23 14 May 21
Good friendly service would use again.


Efficient coordination of dates and times for services needed, professional communication of costs and follow-up information.

Robert Briggs
18:26 10 May 21
Great job, done in a professional, timely manner. I couldn't ask for much better than that. Both team members were friendly and polite to a fault.

They were able to fit me into their schedule with little notice and got the job done quick. I'd highly recommend. This is the 3rd time I've used them and I'll be calling them again over the next couple of months.

Sophia Rickard
22:07 05 May 21
The team did a great job, very timely and responsive!

Toasted Tito
14:56 02 May 21

Darrell Bowie
11:45 02 May 21

Milton Vila, Jr
12:20 01 May 21
The guys called to let me know they were in route. Cleaned up my messy yard and just about swept up the grass. Saved me time and money. Time is money!!! Will recommend...

Nicolas "Shherr" Branch
20:02 30 Apr 21

Tyrone Smith
16:42 29 Apr 21

Shaun Rios
20:17 28 Apr 21

David Jackson
01:43 26 Apr 21
Didn't Actually have an experience, I inquired about having a building taken down send them some pictures and that was it they came back with a response 3 days later after I reminded them of it and they wanted 18 to 2100 for a small building removal way too much for this job,and for them to not even look at it, there's no way..

Clyda Bryant
20:35 22 Apr 21

Johnny Thrasher
13:11 22 Apr 21
Easy to schedule, quick response. Guy messaged and called before coming, showed up, removed items quickly and easily. The whole process was great.

Whitley West
13:04 21 Apr 21
Excellent service. They were able to get our site cleaned quickly. Will be using again.

Kenyton Corbitt
14:59 20 Apr 21

Nijelle Dixon
22:52 19 Apr 21
Great customer service! It was easy to schedule an appointment and they were quick to respond to phone calls/text messages. They were very friendly, arrived early, and were quick to get all of my items out. Highly recommend!!

Chris McLamb
13:14 17 Apr 21

T's Junk Removal did an excellent job. They are very professional and followed up with email, text and phone calls to update me on the status of the work.
Next Reviews
Frequently Asked Questions
Get a Free Quote -or- Ask a Question
Same and next day appointments available!