How Our Junk Removal Service Works
Give us a call or click any "Book Now" button to schedule your convenient junk removal appointment! Call or texting is great also.
We Call When We're On Our Way
We'll arrive on time and give you a heads-up call to let you know when we're on the way! We operate on 2 hour windows of arrival.
Point to what you want removed. Our crew will handle all the lifting and loading.
If You Want It Gone, It's Gone!
No matter where your stuff is located, we'll get it. Our crews aren't afraid to get dirty.
Our crews will make sure they completed your project to standard.
Simply settle up with Cash, Card, Cashapp, Apple Pay, Venmo, or check, and we'll be out in know time.
Save $15! Same and next day appointments available!
FULL SERVICE JUNK REMOVAL
Book junk removal for your home or business, including offices, retail locations, construction sites and more.
Our friendly team is happy to meet all of your junk hauling needs.
At T's Junk Removal We Haul Your Junk So You Don't Have To. We offer top of the line affordable and efficient junk hauling, junk pickup, and trash removal.


We are insured and will secure all permits for your project. We can handle your homes, mobile homes, sheds, garages, carports and interior demolition.


At T's Junk Removal we're excited to now offer Skid-Steer Services. Professionals at moving, digging, filling, and grading of dirt, we are are exactly who you need for your next earth-moving project.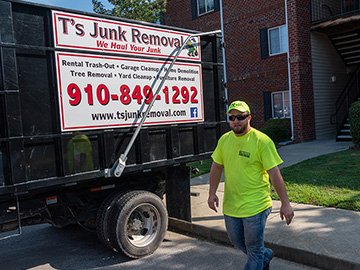 Our team consists of people who care about environment and cleanliness. Every team member showed themselves as responsible and accurate person.
We remove Furniture, Hot Tubs, Sheds, Full Home Trash-Outs, Dumpster Overflows, Tires, Appliances, Trash, Pools, Fencing, Construction Debris, Concrete, Homes, Mobile Homes, Garages, Cardboard, and Interior Demolition Services.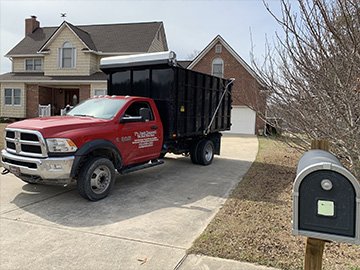 North Carolina: Fayetteville, Fort Bragg, Spring Lake, Raeford, Hope Mills, Cameron, Sanford, Dunn, Eastover, Falcon, Wade, Southern Pines, Aberdeen, Linden, Rockfish, Parkton, Raleigh, Apex and more.Tennesse:Knoxville Tn within 60 mile radius.
T's Junk Removal & Demolition Services
Let's Haul Your Problem Away!
We Haul Your Junk So You Don't Have To
With over 392 + 5 Star reviews, T's Junk Removal is the leading go to Junk Removal and Demolition Company in Fayetteville. We offer top of the line affordable junk hauling, skid steer and demolition services. In addition to being very responsive to our customers, we strive to offer same day services and were insured to handle all our customers' requests for junk pickup, trash removal, junk car hauling, demolition services, skid steer services and many other removal needs.
T'S CAN LIFT, LOAD, AND HAUL AWAY JUST ABOUT ANYTHING.
From a few trash bags to demolishing a full home. We have a variety of removal services. Backyard cleanup to interior demotion. We are the 1st local choice. T's can handle any of your project needs. Nothing is too big or small. WE MEAN IT! Send pictures of your junk removal project to 910-507-2585 and receive a Free quote today. Call to Schedule a Free consultation for your demolition project and receive a fast response.
We will save you time and money when we handle your project. Why DIY when T's can do it?
Serving Fayetteville and all of the surrounding areas within 30-60 miles.
WHAT PEOPLE THINK ABOUT US
Check out our client testimonials

Amanda Dickerson
00:02 26 Feb 21

Danica Quinn
19:51 25 Feb 21

Deborah Travis
21:44 23 Feb 21

David and Dorothy Sykes
19:04 22 Feb 21
Christian and his work partner showed up on time, were courteous and promptly loaded the truck with no complaints. I would recommend T's to anyone.

Jessica Stewart
16:58 18 Feb 21

Jordan Ilund
18:42 17 Feb 21

Garland Jones
08:27 13 Feb 21

Myrisha Goodson
18:28 10 Feb 21
They came out and busted up some SUPER thick 50 year old concrete that was cracked and removed it! Quick, efficient, and reasinable prices! I will definiteli call them for future projects!

Danielle Gilbert
18:22 10 Feb 21

Dustin Parker
19:38 07 Feb 21

Awesome service with fair pricing!

I used T's Junk Removal to haul a truckload of junk. The were very responsive and did exactly what they promised. I hired them to come back tomorrow to remove another full truckload. Five stars for their reliable service.

This is my second time using this service. They are professional, prompt, fast, and friendly! I definitely recommend!!

Marco Pickett
14:41 30 Jan 21

Gregory Johnson
14:43 27 Jan 21

Gina Mahan
10:16 24 Jan 21

Anesia Deal
09:44 24 Jan 21

Michael Feldt
19:12 23 Jan 21

Brandon Bishop
20:48 22 Jan 21

Incredible! The entire process from start to finish is modernized and effective. It was impressive. The crew was fast and very professional! Highly recommend.

T'Meka Hale
23:09 21 Jan 21

Nichole Gates
17:34 15 Jan 21

christopher turner
16:13 14 Jan 21
Requested services 30 mins they came and picked up the furniture that my main waste providers didn't pick up. Would use again prices are not terrible but not the best either. Overall I would recommend

Emory Jackson
21:55 11 Jan 21
Fast and excellent service!

Zachary Hodges
13:11 11 Jan 21

Connor Marshall
09:46 03 Jan 21

Andrew Cleveland
19:09 02 Jan 21
Timely removal of a large shipping pallet. Would definitely use this business again.

antonio rodriguez
20:35 22 Dec 20

Malcolm Payne
18:13 22 Dec 20
Quick, professional, and polite. My second time using them for services and will be using again in the future.

dudevirgo26
16:59 21 Dec 20

Ricardo Munoz
16:46 21 Dec 20

CEED Rental
15:32 18 Dec 20
T's Junk Removal was so incredibly professional, timely, worked quick, and very nice. Highly recommend! Can't say enough good things!

Dallas Mishey
19:41 17 Dec 20
They were quick, effective, and professional.

Kimberly Brooks
18:49 12 Dec 20
T's Junk Removal responded and picked up my washer quickly. Very professional. I highly recommend them for all your disposal needs.

Matthew Foley
16:42 09 Dec 20

amanda stewart
14:46 09 Dec 20
They were able to come quickly to my fairly remote home and were friendly and professional! Highly recommend

Services were provided as planned, the employees were professional and completed the job efficiently and quickly. I would definitely use this company again!

Rodolfo Flores
17:40 03 Dec 20

meghan watson
15:53 24 Nov 20
T's Junk Removal came through for me at the last minute! They moved 2 couches in less than 10 minutes. They arrived before their scheduled time and were very professional! I would use them again in the future for my hauling/removal needs!

Sarah Garasz
20:15 23 Nov 20
T's junk removal was quick, easy, and got the job done that I've been procrastinating for way too long. I'm grateful they helped me out. I would call them again!

Khush Sohal
19:27 19 Nov 20

Terri Parsons
20:10 17 Nov 20
They were efficient, courteous, and professional. I appreciated that they could do a quote by sending pictures, which was convenient, and the quote was accurate. I'll definitely call them again if I need them.

Tia Gardner
23:43 11 Nov 20

Carol Brown
02:07 06 Nov 20
Last minute change and this company responded by phone quickly and were able to b therewithin 2 hrs

Nicholas Petite
22:41 05 Nov 20
It was a small job but they were awesome.

Paul Baldwin
23:29 02 Nov 20

Fantastic service and communication. Sent an email request at 5pm which was answered promptly. Then he had the items removed from the property before noon the next day! Will definitely call T's Junk Removal for any future needs we have at our shopping center.

Megan Forrestall
19:34 26 Oct 20

Carson Giammaria
14:51 26 Oct 20
On time, fast, and communicated well!

Zehra Shenelle
13:05 19 Oct 20
Next Reviews
Frequently Asked Questions
Get a Free Quote -or- Ask a Question
Same and next day appointments available!