How Our Junk Removal Service Works
Give us a call or click any "Book Now" button to schedule your convenient junk removal appointment! Call or texting is great also.
We Call When We're On Our Way
We'll arrive on time and give you a heads-up call to let you know when we're on the way! We operate on 2 hour windows of arrival.
Point to what you want removed. Our crew will handle all the lifting and loading.
If You Want It Gone, It's Gone!
No matter where your stuff is located, we'll get it. Our crews aren't afraid to get dirty.
Our crews will make sure they completed your project to standard.
Simply settle up with Cash, Card, Cashapp, Apple Pay, Venmo, or check, and we'll be out in know time.
Save $15! Same and next day appointments available!
FULL SERVICE JUNK REMOVAL
Book junk removal for your home or business, including offices, retail locations, construction sites and more.
Our friendly team is happy to meet all of your junk hauling needs.
At T's Junk Removal We Haul Your Junk So You Don't Have To. We offer top of the line affordable and efficient junk hauling, junk pickup, and trash removal.


We are insured and will secure all permits for your project. We can handle your homes, mobile homes, sheds, garages, carports and interior demolition.


At T's Junk Removal we're excited to now offer Skid-Steer Services. Professionals at moving, digging, filling, and grading of dirt, we are are exactly who you need for your next earth-moving project.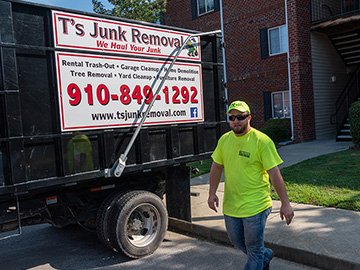 Our team consists of people who care about environment and cleanliness. Every team member showed themselves as responsible and accurate person.
We remove Furniture, Hot Tubs, Sheds, Full Home Trash-Outs, Dumpster Overflows, Tires, Appliances, Trash, Pools, Fencing, Construction Debris, Concrete, Homes, Mobile Homes, Garages, Cardboard, and Interior Demolition Services.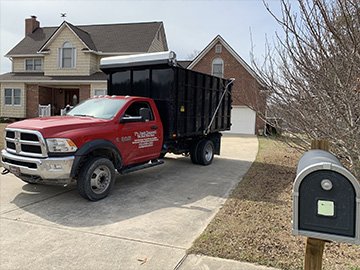 North Carolina: Fayetteville, Fort Bragg, Spring Lake, Raeford, Hope Mills, Cameron, Sanford, Dunn, Eastover, Falcon, Wade, Southern Pines, Aberdeen, Linden, Rockfish, Parkton, Raleigh, Apex and more.Tennesse:Knoxville Tn within 60 mile radius.
T's Junk Removal & Demolition Services
Let's Haul Your Problem Away!
We Haul Your Junk So You Don't Have To
With over 392 + 5 Star reviews, T's Junk Removal is the leading go to Junk Removal and Demolition Company in Fayetteville. We offer top of the line affordable junk hauling, skid steer and demolition services. In addition to being very responsive to our customers, we strive to offer same day services and were insured to handle all our customers' requests for junk pickup, trash removal, junk car hauling, demolition services, skid steer services and many other removal needs.
T'S CAN LIFT, LOAD, AND HAUL AWAY JUST ABOUT ANYTHING.
From a few trash bags to demolishing a full home. We have a variety of removal services. Backyard cleanup to interior demotion. We are the 1st local choice. T's can handle any of your project needs. Nothing is too big or small. WE MEAN IT! Send pictures of your junk removal project to 910-507-2585 and receive a Free quote today. Call to Schedule a Free consultation for your demolition project and receive a fast response.
We will save you time and money when we handle your project. Why DIY when T's can do it?
Serving Fayetteville and all of the surrounding areas within 30-60 miles.
WHAT PEOPLE THINK ABOUT US
Check out our client testimonials

Erin Yates
16:16 31 Dec 21
We needed some items removed from a closet remodel and they were fast and professional! They are a bit pricey for the little amount they needed to take, but the convenience definitely makes up for it! I would hire them again.

Elizabeth Hood
20:14 29 Dec 21
The two men who removed everything were wonderful! They were on time, efficient, and most of all, kind. I would highly recommended them!!!

Joanne Masker
15:07 22 Dec 21
Guys were amazing!!!! Professional and thorough. They did a great job. Will hire again.


Carol Mccrarey
13:37 08 Dec 21
I needed a full mattress set, small sofa and love seat, a curio cabinet, a sofa console table and small accent table removed. Ten minutes. It cost 350$. Seriously over priced. Would not recommend.

shiesha miles
18:13 13 Nov 21

Sharon Balaguer
00:10 05 Nov 21

Jb Barnwell
17:33 21 Oct 21

The crew showed up early and were polite, friendly, professional and very efficient.Absolutely will use TJ's again.

Sam Norris
20:32 15 Oct 21

Sandra Morrison
13:06 13 Oct 21
Second time as good as the first. Used for business and now personal! These guys are fantastic!!

Monika Purcell
14:44 11 Oct 21
Ryan and his team were amazing! They have my garage looking brand new!


Mike Lovell
23:04 08 Oct 21
On time and completed the removal satisfactorily. The crew was friendly and proficient.

Zachary Berkley
18:50 05 Oct 21

Gregg Anderson
16:01 04 Oct 21
They were very fast and both guys were really good guys. I enjoyed talking to them. They finished a whole truckload in less than an hour.

Ron Johnson
12:37 29 Sep 21
This was our second time using T's Junk Removal and the reason why we chose them again was that they are fairly priced, courteous and professional. Today's service was no different, we had cleaned out our attic and knew that there was really only one company to call to haul away the debris and that was T's. A two man crew came out greeted us, was shown where the debris was and within a few minutes we had a quote and they went to work. A little over 30 minutes later and they were done. I made a payment, and that was it. Its that simple and if we need to haul away any more junk, T's Junk Removal is who were are going to use guaranteed. Highly recommended.

Fresh Word Fellowship
12:51 27 Sep 21
T's Junk Removal was professional and timely. It only took them about 10 minutes and they were completely done! HIGHLY recommend their services!! And they were reasonable. Now I can fit my vehicle back in my garage! Thanks T's!!

Jasmine Enlow
10:11 21 Sep 21

Maurice Graham
16:16 18 Sep 21

TheNormalNoah
14:23 18 Sep 21

Hayle adams
12:57 16 Sep 21

Jean Crume
12:41 16 Sep 21
Great business, always responsive and on time. I've used them several times. They communicate with the customer very well before and after the job. Would definitely recommend.

Victor Elick
17:48 15 Sep 21
T's junk removal sent Kyle and his partner, they were on time and very professional and courteous that did a outstanding job with no complaints we will always call on them when we need help. Fair price

Ursula Bost
21:17 11 Sep 21
Exceptional service! Received notifications regarding the appointment and a phone call when they were in route to my house. Very reasonably priced and they were very efficient. True professionals and I would definitely recommend.

Manu removal is just amazing! They did a yard removal for my backyard, and hands down the funniest crew you ever come across! Lol they made me feel comfortable and assured me that they were getting the job done. They were super friendly and professional, I will definitely be calling them again.Great job

Marcus Richards
14:10 10 Sep 21

Mikola King
17:54 05 Sep 21
Used Ty's Touch Junk Removal over Labor Day weekend to remove moving boxes, wrapping, and a bunch of misc items. Replied within minutes of my request with a quote. Would have given me same day service if I had been available! Removal was quick, professional, no scraps etc left behind. Recommend, and would use again.

Robert Heller
19:17 04 Sep 21
T's Junk removal was fantastic, I called at 1000 sent some pics and had a quote within 10 minutes. Inside of 2 hours on a Saturday they were onsite, services were rendered quickly, professionally, and above expectation. I would recommend them anytime, I will certainly be a repeat customer.

Will Fairley
20:05 02 Sep 21

Jonathan Ratzlaff (JRatz)
14:43 26 Aug 21
Liked I had multiple options to pay and ways to communicate, will do business with again.

Paul Shorkey
14:07 26 Aug 21

Valerie Booker
01:35 20 Aug 21

wyatt burke
14:44 18 Aug 21
Quick & efficient! Very nice too. Would recommend to anyone!

Candance Hammonds
19:15 17 Aug 21
Great service! Very responsive and professional! I will definitely use this service again.

Robert Stewart
20:46 16 Aug 21


Anita Bess
19:42 12 Aug 21

Anthony Jackson
20:57 09 Aug 21
Fast, efficient and reasonably priced service.

Teresa S Holmes
15:49 09 Aug 21

Tiranii McGowan
19:17 05 Aug 21

Vikki Scroggins
22:18 03 Aug 21

SBDESIGN Excellence
20:45 03 Aug 21
They are one of the most efficient companies that I have dealt with in a long time they do what they say they're gonna do and when they say they're going to do it. They put the A back in America!

Shakira Morales
20:31 02 Aug 21

ITTGJB Pagan
07:45 02 Aug 21
Gave me a quote then increased the price once they arrived- and broke item that was not supposed to be removedCalled and wanted to argue ove phone, then wrote rebuttal about post so that my review would be a customer issue rather than just taking the customer's Personal review. I still believe this company over charges, I was able to find another company that charged less and took more away.If you want a customer to rate you then let them rate you, stop trying to look perfect when you are not. Learn to take criticism

McArthur Landing
14:36 27 Jul 21


Fronte Unito
14:07 10 Jul 21

Nikki Gonzalez
15:59 09 Jul 21

Tristan Steffen
13:59 08 Jul 21
Next Reviews
Frequently Asked Questions
Get a Free Quote -or- Ask a Question
Same and next day appointments available!