How Our Junk Removal Service Works
Give us a call or click any "Book Now" button to schedule your convenient junk removal appointment! Call or texting is great also.
We Call When We're On Our Way
We'll arrive on time and give you a heads-up call to let you know when we're on the way! We operate on 2 hour windows of arrival.
Point to what you want removed. Our crew will handle all the lifting and loading.
If You Want It Gone, It's Gone!
No matter where your stuff is located, we'll get it. Our crews aren't afraid to get dirty.
Our crews will make sure they completed your project to standard.
Simply settle up with Cash, Card, Cashapp, Apple Pay, Venmo, or check, and we'll be out in know time.
Save $15! Same and next day appointments available!
FULL SERVICE JUNK REMOVAL
Book junk removal for your home or business, including offices, retail locations, construction sites and more.
Our friendly team is happy to meet all of your junk hauling needs.
At T's Junk Removal We Haul Your Junk So You Don't Have To. We offer top of the line affordable and efficient junk hauling, junk pickup, and trash removal.


We are insured and will secure all permits for your project. We can handle your homes, mobile homes, sheds, garages, carports and interior demolition.


At T's Junk Removal we're excited to now offer Skid-Steer Services. Professionals at moving, digging, filling, and grading of dirt, we are are exactly who you need for your next earth-moving project.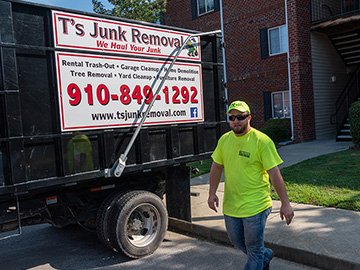 Our team consists of people who care about environment and cleanliness. Every team member showed themselves as responsible and accurate person.
We remove Furniture, Hot Tubs, Sheds, Full Home Trash-Outs, Dumpster Overflows, Tires, Appliances, Trash, Pools, Fencing, Construction Debris, Concrete, Homes, Mobile Homes, Garages, Cardboard, and Interior Demolition Services.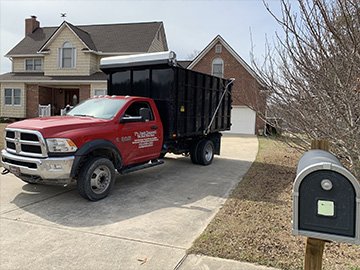 North Carolina: Fayetteville, Fort Bragg, Spring Lake, Raeford, Hope Mills, Cameron, Sanford, Dunn, Eastover, Falcon, Wade, Southern Pines, Aberdeen, Linden, Rockfish, Parkton, Raleigh, Apex and more.Tennesse:Knoxville Tn within 60 mile radius.
T's Junk Removal & Demolition Services
Let's Haul Your Problem Away!
We Haul Your Junk So You Don't Have To
With over 392 + 5 Star reviews, T's Junk Removal is the leading go to Junk Removal and Demolition Company in Fayetteville. We offer top of the line affordable junk hauling, skid steer and demolition services. In addition to being very responsive to our customers, we strive to offer same day services and were insured to handle all our customers' requests for junk pickup, trash removal, junk car hauling, demolition services, skid steer services and many other removal needs.
T'S CAN LIFT, LOAD, AND HAUL AWAY JUST ABOUT ANYTHING.
From a few trash bags to demolishing a full home. We have a variety of removal services. Backyard cleanup to interior demotion. We are the 1st local choice. T's can handle any of your project needs. Nothing is too big or small. WE MEAN IT! Send pictures of your junk removal project to 910-507-2585 and receive a Free quote today. Call to Schedule a Free consultation for your demolition project and receive a fast response.
We will save you time and money when we handle your project. Why DIY when T's can do it?
Serving Fayetteville and all of the surrounding areas within 30-60 miles.
WHAT PEOPLE THINK ABOUT US
Check out our client testimonials

Frank Stein
16:43 07 Dec 23

jalen ayers
18:41 01 Dec 23
Prompt, efficient, methodical, and precise!!! Highly recommended!!!

Matthew Hinson
23:49 30 Nov 23

Lance Aleshire
05:47 22 Nov 23

Robert McLean
18:51 07 Nov 23

Kimberly Brooks
16:22 04 Nov 23
T's Junk Removal responded in a timely manner. Very professional. Great prices.

Mary Morden
14:13 31 Oct 23
I had an upright piano that was very old and extremely heavy that I needed to get rid of. When I called T's junk removal, I was provided a very reasonable quote within minutes and was able to schedule quickly. I was given a time frame of 8am-10am, and they were here close to 8am with the piano out of my house within just a few minutes! I completely forgot to get the names of the two gentlemen that came to pick up, but they were so professional and kind. Major kudos to them because I know moving such a heavy piano at 8am was a killer start to the day, but they were awesome!! Pictured is the big ole piano.

Steve "Kona Joe" DeWeese
14:05 28 Oct 23
Was able to schedule a house hold items pick for next day pickup including two dresses. The crew were really nice and loaded up quickly. I recommend T's Junk removal without hesitation.

Terry Browning
21:36 20 Oct 23
They came on time and took my junk, all of itPrice was fair seeing how they. did it allHighly recommend

Rose Bryson
19:26 16 Oct 23
I appreciate them being very trusting. They cleaned the area very well. Communication was very respectful. I will recommend them. Very good service.

Savannah Powell
19:20 13 Oct 23

Deonte Baggett
17:26 04 Oct 23

Robert Heller
13:41 25 Sep 23
As always the crew from T's was early, professional, and quick. Another perfect experience.

Brandon Hewett
12:24 14 Sep 23
This Company is awesome. My family is doing our final/post Army Retirement move, so I had a LOT of stuff to get rid of. I was able to go online and quickly schedule for them to come out to provide a free estimate when I was ready for it. It was priced fairly, and when they came out on the scheduled date that worked for me, they took care of everything, no problem. For the huge amount of stuff we were getting rid of, including furniture, it was worth it to have these guys take care of all of it for me instead of the (minimum) 6 trips to the dump with my truck and trailer that it would have taken (by myself). I'd recommend this Team to anyone that needs to have lots of stuff hauled off for a decent price.

Lauren Garcia
14:21 05 Sep 23
These guys are always awesome, we have scheduled them three times for junk removal. They always have amazing service and you can't get a better deal or better people.

mark merwin
13:34 23 Aug 23

Benjamin Presley
20:45 22 Aug 23
Professional work, was able to schedule a pickup while I was clearing out my house to move they assessed, gave me a quote, then next day knocked it out. It was a big stress relief and they work fast.

Samantha Renfroe
02:08 16 Aug 23
Highly professional, arrived within hours of our call. Recommend them!


Man Whore Richardson
16:00 07 Aug 23

Regina Parker
15:04 07 Aug 23
Kyle was great to work with.

Rich Holada
23:53 02 Aug 23
Came when the said the would and got the job done efficiently. I would recommend them.

Cynthia Barber
16:05 02 Aug 23

kassidy Laird
17:52 31 Jul 23

Bill and Joan Bodkin
14:02 26 Jul 23
Replied to my message withing minutes. Great communication, friendly staff.

Gregory Bresnahan
13:24 20 Jul 23
Very courteous and professional. Kyle was a pleasure to work with!

Sonia Kimp
13:02 17 Jul 23
T's junk removal did a great job I would recommend them to family and friends the workers were very professional and friendly.

Amanda Parker
20:40 12 Jul 23
From the booking of the appointment to the actual pick up they were extremely professional and did a great job. Great company to work with. Thanks again!

Paul Shanahan
19:42 11 Jul 23

Jeremey Oliphant
19:33 08 Jul 23

Ryan Cavey
14:35 08 Jul 23

Kelly DeLuca
00:12 04 Jul 23
Removal and hauling of beds including frames and mattresses. Available on short notice

Erin Johnston
17:05 03 Jul 23
Provided service the next day. Prompt and professional. Left no mess, thorough job done.

Daniel Bartholomew
17:35 01 Jul 23

Highly recommend. Great communication and guys showed up on time both days. Very professional and took great care not to scuff any walls while moving large couch down a flight of stairs.

Amanda Mcknight
21:37 15 Jun 23

Ashen Garcia
17:09 13 Jun 23
Job was done very fast and efficiently

Elizabeth Cowherd
14:31 07 Jun 23

Clara Smith
13:38 16 May 23
Very pleased with the 2 young men who came and and removed all of the items in less than 2 hours!

chris merritt
16:47 05 May 23
Professional and fast. Great service and experience.

Torre Edgerly
00:10 02 May 23
Amazing service! They got us out of a real bind! Would highly recommend!

Alexandra Leith
12:59 25 Apr 23
I called yesterday to get a quote and they were able to schedule a visit for this morning. They called and text 15 minutes prior to their arrival. I got the quote minutes after they got there and they removed everything once I approved it. They had it done within an hour and I didn't even have to be there! This company was very quick to respond and kept me notified through text the entire time. They have great customer serivce and communication. Thank you for turning such a stressful and daunting task into something easy for us!

T's Junk Removal helped us during the last phase of removing items from an estate home prior to sale. They have excellent communication and response time. They provided an estimate quickly and were on time to the appointment. Their crew was highly efficient about removing bulky heavy items which we were not able to lift or maneuver ourselves. We are so grateful for their assistance with what seemed like an overwhelming task. Well done and thank you T's for your much needed service!

Jerry Hewett
17:33 29 Mar 23

Chris Fann
15:36 28 Mar 23
Super easy using text and pictures to get a quote. Thanks guys!

Anthony Sheff
16:24 21 Mar 23
Arrived on time, quick estimate and furniture removal. We were very pleased with the service and would use again.

Carol Jones
15:27 20 Mar 23
This is my second interaction with T's Junk Removal, and both times they were professional, courteous, careful, and respectful. I would tip these guys anytime. Thanks T's Junk Removal I greatly appreciate your professionalism from start to finish.

Rebecca Johnson
15:46 11 Mar 23
The gentlemen were very professional, quick, and reasonable priced!

Tammy McDuffie
15:51 04 Mar 23
They came early. Completed the job with no damage. Very courteous. In and out.

I called T's junk Removal and they arrived the next day on time to give me a quote after seeing what I needed removed. I agreed with the quote and the 2 men who were very nice got to work clearing out my garage. They worked quickly filling their truck and taking it yo the dump. They were back with an empty truck and kept on working until everything I wanted picked up was in the truck. They were a great team. I will be using T's junk removal again !
Next Reviews
Frequently Asked Questions
Get a Free Quote -or- Ask a Question
Same and next day appointments available!