How Our Junk Removal Service Works
Give us a call or click any "Book Now" button to schedule your convenient junk removal appointment! Call or texting is great also.
We Call When We're On Our Way
We'll arrive on time and give you a heads-up call to let you know when we're on the way! We operate on 2 hour windows of arrival.
Point to what you want removed. Our crew will handle all the lifting and loading.
If You Want It Gone, It's Gone!
No matter where your stuff is located, we'll get it. Our crews aren't afraid to get dirty.
Our crews will make sure they completed your project to standard.
Simply settle up with Cash, Card, Cashapp, Apple Pay, Venmo, or check, and we'll be out in know time.
Save $15! Same and next day appointments available!
FULL SERVICE JUNK REMOVAL
Book junk removal for your home or business, including offices, retail locations, construction sites and more.
Our friendly team is happy to meet all of your junk hauling needs.
At T's Junk Removal We Haul Your Junk So You Don't Have To. We offer top of the line affordable and efficient junk hauling, junk pickup, and trash removal.


We are insured and will secure all permits for your project. We can handle your homes, mobile homes, sheds, garages, carports and interior demolition.


At T's Junk Removal we're excited to now offer Skid-Steer Services. Professionals at moving, digging, filling, and grading of dirt, we are are exactly who you need for your next earth-moving project.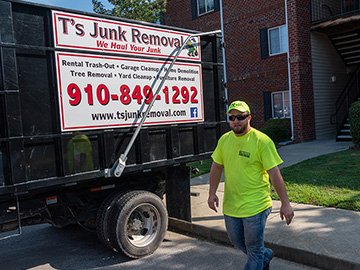 Our team consists of people who care about environment and cleanliness. Every team member showed themselves as responsible and accurate person.
We remove Furniture, Hot Tubs, Sheds, Full Home Trash-Outs, Dumpster Overflows, Tires, Appliances, Trash, Pools, Fencing, Construction Debris, Concrete, Homes, Mobile Homes, Garages, Cardboard, and Interior Demolition Services.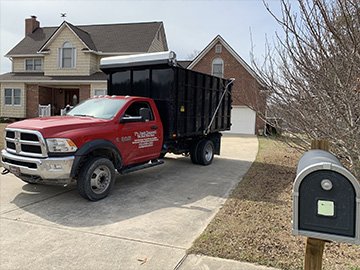 North Carolina: Fayetteville, Fort Bragg, Spring Lake, Raeford, Hope Mills, Cameron, Sanford, Dunn, Eastover, Falcon, Wade, Southern Pines, Aberdeen, Linden, Rockfish, Parkton, Raleigh, Apex and more.Tennesse:Knoxville Tn within 60 mile radius.
T's Junk Removal & Demolition Services
Let's Haul Your Problem Away!
We Haul Your Junk So You Don't Have To
With over 392 + 5 Star reviews, T's Junk Removal is the leading go to Junk Removal and Demolition Company in Fayetteville. We offer top of the line affordable junk hauling, skid steer and demolition services. In addition to being very responsive to our customers, we strive to offer same day services and were insured to handle all our customers' requests for junk pickup, trash removal, junk car hauling, demolition services, skid steer services and many other removal needs.
T'S CAN LIFT, LOAD, AND HAUL AWAY JUST ABOUT ANYTHING.
From a few trash bags to demolishing a full home. We have a variety of removal services. Backyard cleanup to interior demotion. We are the 1st local choice. T's can handle any of your project needs. Nothing is too big or small. WE MEAN IT! Send pictures of your junk removal project to 910-507-2585 and receive a Free quote today. Call to Schedule a Free consultation for your demolition project and receive a fast response.
We will save you time and money when we handle your project. Why DIY when T's can do it?
Serving Fayetteville and all of the surrounding areas within 30-60 miles.
WHAT PEOPLE THINK ABOUT US
Check out our client testimonials

Carolyn Tosi
15:31 03 Feb 23
The guys are reliable, friendly, and professional

Michelle Anderson
17:23 28 Jan 23
They were earlier than the job time and they were in and out!

DeAnna Peavy
16:42 26 Jan 23
kind of pricy paid 175 to remove a box spring a top mattress full size. but they were on time quick next day services. great bunch took the mattresses right out without any problem

They did a really great job. They were here when they said they were going to be here and they were fast. We would definitely use they're services again.

Phyllis Law
14:34 21 Jan 23
They came when they said they would. Efficient & courteous. Removed debris promptly.

michael lipari
10:45 20 Jan 23
Working with my Ryan was a pleasant experience. He ensured to take care of our home just as if he were to take care of his own. We had a tree and some bushes that needed to be removed. He and his crew were there early and knocked it out in no time with no scraps left behind. Thank you Ryan and look forward to doing more work with you in the near future!!!

Collins Arihi
22:25 18 Jan 23

Lauren Garcia
20:22 14 Jan 23
It was super easy to set up an appointment. I had my garage cleaned out by the end of the week. Everyone we talked to was great as well!

Thomasa Bonner
02:13 07 Jan 23

We could not have been happier with T's Junk Removal. From start to finish, the experience was smooth and they did exactly what they said they'd do. The clean up required was perfectly done. Highly recommend!

Anita Edge
14:54 11 Dec 22
I wish you could see my Florida Room since T's Junk Removal hauled off all of the trash and furniture that had been in there for so long! My plants no longer have to share their space with useless junk! I am very pleased with their work and their pleasant attitudes!

Keep pounding Gs350Fsp
17:32 30 Nov 22

They removed my junk with a smile.

SBDESIGN Excellence
17:58 19 Nov 22
They are one of the most efficient companies that I have dealt with in a long time they do what they say they're gonna do and when they say they're going to do it. They put the A back in America!

Stacie Walker
13:25 19 Nov 22
T's junk removal are awesome! They were on time and removed all items fast and efficiently. The job was completed faster than I anticipated. I will definitely use them again. Thank you for everything guys.

Gwendolyn Jennen
21:38 16 Nov 22

Robin Campbell
19:47 04 Nov 22
Very professional and fast! Very much appreciated. Would absolutely recommend!

Brian O'Shea
14:34 03 Nov 22
The workers were professional, courteous and did the work as promised.

Reginald Outerbridge
09:52 31 Oct 22

Korey White
17:25 14 Oct 22
They are extremely respectful and responsive. They provide quality service.

Jonathan Quinones
14:20 01 Oct 22

Ijeoma Bennin
02:54 01 Oct 22

Carlos Munoz
16:08 24 Sep 22
They were fast, polite, and they respond to the service. In les than 24 hs.

The 2 guys who came to my house were really nice and worked very fast. I thought it would take a long time but they were quick.

Sara Campbell
21:17 17 Sep 22
Ryan was easy to work with. I was on a time crunch and he was able to get some trash and furniture picked up quickly. I'd recommend him to anyone needing furniture or junk removed in Fayetteville area!

felicia poole
13:21 17 Sep 22
Very professional quick and clean

Inga Russell
22:32 13 Sep 22

Bev Mcdonald
15:32 09 Sep 22
Calvin and Jay did an awesome job. They quoted me the price and begin removing the junk from my back yard. I will be using this service again!My back is looking great!Thanks to Jay & Calvin

Sara Penney
13:47 08 Sep 22
Quick and professional. Reasonably priced. Would absolutely use again.

Aiyana Homer
18:22 07 Sep 22
Personnel were quick and professional. Will use again!

Chris Moonen
20:20 03 Sep 22
Came in got the job done. Went above and beyond on everything we asked

RAJEEV PARASNIS
16:55 03 Sep 22

The men arrived ready to work. Once they knew what to move they got right to it and worked until the job was completed.There was one box spring that could not fit in the truck. They chose safety first rather than try to make it fit. They checked in with me to see if it was ok to go to the dump and return for the item.I agreed and left a broom and dustpan so they could sweep the driveway where they separated a table. When I returned, the box spring was gone and the driveway was clean.Thank you Ts Junk Removal of Fayetteville, for helping to lighten a huge load.CJ

Susie McFadyen
16:38 27 Aug 22
T's response was nearly instant, quote /truck was on time (actually early), quote was given within minutes. Two men who did the work were polite and efficient. They worked hard and got the job done in just a couple of hours. It would've taken me weeks. Had to pay nicely but worth it for the fast results.

Trena Daignault (Keller Williams Realty)
20:18 23 Aug 22
Great communication system. Prompt and professional. Highly recommend.

Mayaloha Etse
12:44 10 Aug 22

Harrison Truong
18:59 09 Aug 22
They did a great job and their customer service is on point. Highly recommended, especially for those in real estate who need a clean-out.

April Stockert
16:27 05 Aug 22
I had a large above ground pool and deck dismantled and hauled away. Very nice, on time: ) and professional. I'm very happy!


Daniel Wood
14:56 27 Jul 22

I had a very professional and pleasant experience.The crew was on time , professional, fast and personable. I would recommend this company to anyone that needs quick and efficient service.

NC Properties
16:24 20 Jul 22
They did a great job and were very professional!

Jessica Bulluck
18:47 19 Jul 22
Staff arrived within the window of time given, were friendly and quickly about their work. Service was on the pricey side in my opinion but would probably use them again. Being able to use Apple Pay was a plus.

Angela Tally
22:14 12 Jul 22
Staff was friendly and worked hard to get the job done quickly! Will definitely use again!

Matt Camporese
16:49 12 Jul 22

Rachelle Hartigan
18:32 08 Jul 22

Alexander Stevens
14:17 07 Jul 22

Crissy Sonerson
19:36 06 Jul 22
They were very kind and professional and on time. I highly recommend this company. We had our backyard cleaned, we had over 200 bags of yard debris and they were able to remove it all. Thank you so much

ebony davis
13:46 02 Jul 22
My experienced got off to a rough patch. The owner how ever went out of his way to make sure we were satisfied with the service. We will recommend this company with friends and family. Thank you so much, we do appreciate you.

Theo Hicks
18:33 30 Jun 22
Business was very communicative, and arrived within the timeline selected. Workers were professional and worked fast and efficiently. 100% recommend using their services.
Next Reviews
Frequently Asked Questions
Get a Free Quote -or- Ask a Question
Same and next day appointments available!